Our newest artist interview is with illustrator Gabriela Nicole Gonzalez, a recent graduate from the Maryland Institute College of Art. Gabriela's style is a mix of whimsically delightful, colorful and fun. You can find more of her work on her website and blog.
Can you give us a little background about yourself and your work?
Hi! I'm Gabriela Nicole Gonzalez and I'm and illustrator. I graduated from the Maryland Institute College of Art and I really enjoy playful, quirky illustration particularly but not limited to for children. I use bright colors in my pieces and generally aim to make people smile. I work with several different mediums and take pleasure in experimenting however most of my work is done digitally and in paper collage.
What type of things (artists, films, fashion, real life) inspire you?
I am really inspired by artists such as Micah Lidberg, Siggi Eggertsson and Merjin Hos. I think the work of all three of them is really playful and they make me happy. I would have to say though that my main inspiration for many of my works is from traveling and visiting different cities and meeting new people. I have a few projects that were entirely influenced by particular trips where I was blown away by the imagery (Greece) or from people from other cultures I met whilst on a trip (Mexico).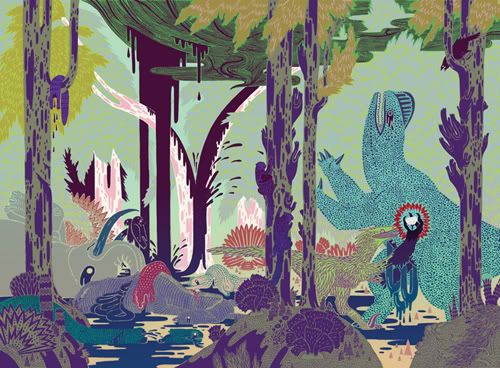 Do you have a narrative in mind when you create a piece? Or do you draw what comes to mind?
Usually I will have an idea that I've written in my journal or sketchbook and it lingers there for a while until I've figured out how would be the best way to execute it. But of course I also like to doodle from my head from time to time…
Also, I like to write. Currently I'm working on a children's book in which the writing came first and then the illustrations. It's a short poem about a village that tickles the moon with a giant feather causing it to fall down, and they have to figure a way to return it to the sky.
What direction do you see your work going in the future? and do you have any upcoming projects planned?
I would like to work on more children's books in the future but really I think I would take part in any kind of project that is for children. I am going on a trip back to Europe in June though where I fully intend to take in what I see and use it to create some new work.
from the Illusionism series
Any advice to anyone just getting into illustration and drawing on how to develop their own personal style?
I think it is really important to explore different mediums and experiment with several styles until you've stumbled upon something that is uniquely yours, and that you enjoy doing. I would also suggest to always look at the work of others, read a lot of blogs, ask for the help of your friends and family, travel, and just always fill your head with new things that could potentially bring you to new ideas.